Lao Community Cultural Center San Diego

2016 Lao Boat Racing Festival
Saturday, September 10, 2016
Plan to Spend the Day
On Beautiful Mission Bay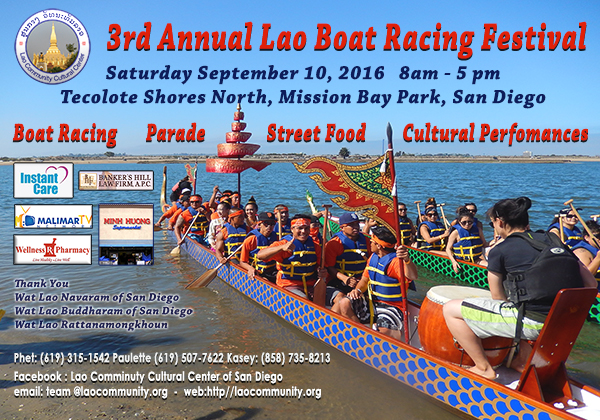 Teams wanting to compete in this year's event please complete and submit registration forms no later than August 15, 2016.
If you have any questions, please contact:
Sammy Sayjai at (619) 265-6541
or email Sammy_sayjai@yahoo.com
Paulette P. Luangviseth at (619) 507-7622 or email to paulette_luangvisteth@hotmail.com
Sponsorship Request Forms
Lao Community Cultural Center (LCCC) is seeking sponsorship for our 2016 Lao Boat Racing Festival that will be held September 10, 2016. We anticipate more than 2,000 people attending and multiple organizations participating. LCCC will be delighted and honored to have you as our sponsor and partner for our 2016 Lao Boat Racing Festival. Your sponsorship to our organization will not only help energize and empower our community, it will also inspire the unity and connection of the Lao Community in San Diego and throughout the United States.

Thank You San Diego For Your Strong Community Support.